About AFPWNY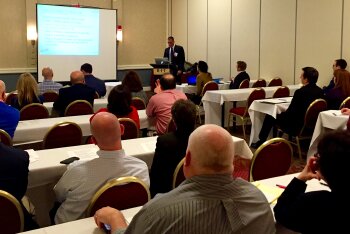 Created in 1984, the Association for Financial Professionals of Western New York, Inc. (AFPWNY) is a non-profit, educationally-oriented organization that provides a forum for the active and open exchange of concepts and techniques related to the practice of financial management.
Today's membership represents a wide cross-section of local industry in Western New York (Buffalo, Rochester, Syracuse, and Finger Lakes regions). Membership is open to individuals from businesses of any size, non-profit organizations, financial institutions, banks, financial service providers, government, and educational institutions.
In cooperation with the national Association for Financial Professionals (AFP), our meetings and half-day conferences qualify for continuing educational credits necessary to maintain the Certified Treasury Professional (CTP) and FP&A designations. Each half-day conference provides four (4) CTP credits and the monthly meetings provide one (1) credit. In addition, each half-day conference provides one (1) FP&A credit and a smaller amount for the monthly meetings.
AFPWNY encourages every member to become a CTP or FP&A (for more information about study groups, please contact a Board Member). We also support member participation in the AFP. In addition to offering a wide range of continuing educational opportunities, professional certification, and industry standards programs, AFP has become an invaluable resource for disciplines represented in organizational and corporate finance areas. AFP works to increase professional skills, and to enhance the recognition and credibility of finance and treasury professionals.
Our fiscal year begins July 1st and ends June 30th. Our format includes three half-day conferences and three monthly meetings. The conferences are held in the autumn, winter and spring. Registration and lunch begin at 12:00, with the speakers starting at 1:00 and ending at 5:00, followed by a reception.
The monthly meetings and half-day conferences offered by AFPWNY are well-recognized events offering both educational and networking opportunities.
These events feature various topics of finance and treasury. As a result we look for expert speakers that discuss topics to reflect the most relevant issues, and that the information provided is on leading-edge concepts, technologies and regulatory issues. As a result, many of our speakers and sponsors come from around the country.
In past years the areas of expertise and background of speakers has come from large global and domestic banks, armored car companies, educational institutions, the FBI, Federal Reserve, consultants, accounting firms, insurance and credit reporting companies to name a few.
Our goal is to provide a wide variety of viewpoints for our membership. Members are encouraged to become directly involved in meetings, activities, and discussions. Due in part to this process and the quality of the speakers, attendance and membership continues to grow.